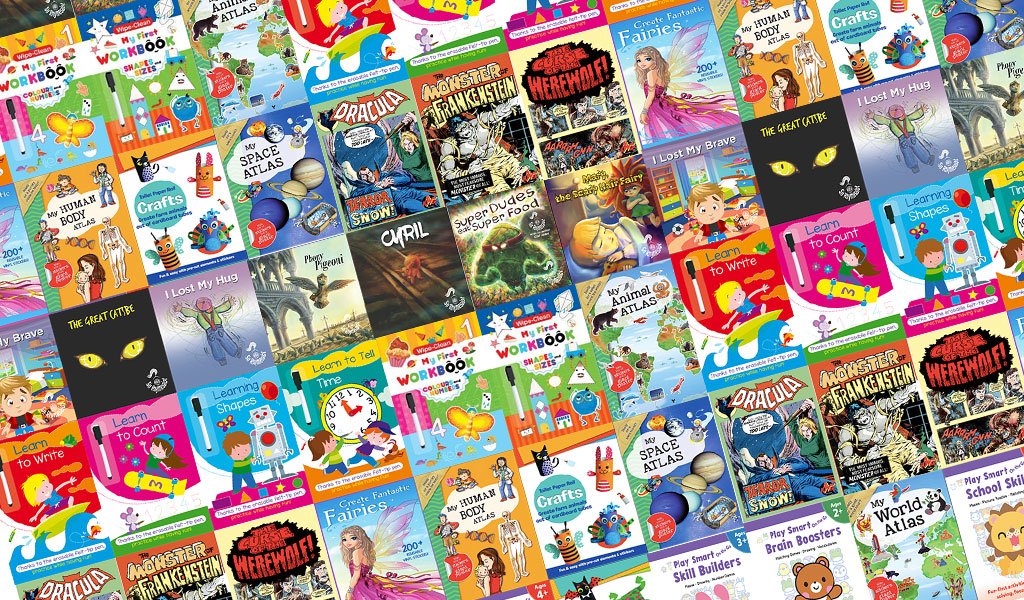 By Sally Lodge | Publishers Weekly | Nov 12, 2020
"Expanding Minds" is the tag line selected by Imagine & Wonder, a boutique New York publisher set to release its debut books in February 2021. At its helm is president Steven Wilson, whose book and magazine publishing career spans multiple companies, including Gakken Publishing, the Quarto Group's Book Sales, Inc., Omnibus Press, Music Sales, and Hal Leonard Corporation. The I&W list will feature nonfiction and fiction offerings and will be distributed by Nashville-based APG.
One of Imagine & Wonder's kickoff series, created in collaboration with Australian writer Simon Mills, is Sir Rhymesalot (the name of the pseudonymous author), full-color, rhyming storybooks aimed at readers ages five to eight, each delivering a moral. The line, which will issue 10 to 20 books annually, will debut with nine titles, to be released in simultaneous hardcover and paperback editions. The series includes Violet the Virus, which Wilson describes as "the figurehead book for our first list," whose title character is an adventurous virus who loves being with people, but is oblivious to the fact that she is harmful to others. "The story addresses the benefits of wearing masks, washing one's hands, and watching out for others," Wilson said. "We expect this will be a valuable book for classroom use, and we will donate the profits from the book to a major educational provider."
Among the other books on Sir Rhymesalot's inaugural list are Super Dudes Eat Super Foods, starring superhero vegetables who reveal the importance of healthy eating; I Lost My Hug, in which a boy discovers the importance of a mother's love; and Phony Pigeoni, a tale about being true to oneself, introducing a boastful Venetian pigeon whose fabricated stories of his worldwide travels fail to fool his feathered friends.
I&W partnered with Canada-based publisher Eurolina to create (and represent in the U.S.) its second launch series, a line of paperback activity, craft, and reference books that will add 25–30 titles annually. Due next spring are My World Atlas, My Human Body Atlas, My Animal Atlas, and My Space Atlas, featuring facts, activities, reusable stickers and a fold-out poster; Create Fantastic Fairies and Create Gorgeous Princesses, with 240 vinyl stickers; and two titles in the Toilet Paper Roll Crafts series: Create Wild Animals Out of Cardboard Tubes and Create Farm Animals Out of Cardboard Tubes.
Imagine & Wonder will launch additional series in fall 2021, including Hickory, Dickory & Dock by Robert Wise, a trilogy of stories following these three notorious mice as they start up calamity-riddled businesses that magically succeed. Imported from the U.K., these books will be published under the Bish Bash Books imprint. And among the new fall Eurolina titles are 50 Questions About the Human Body and 50 Questions About Saving the Planet; the inaugural Wipe-Clean: My First Workbooks, Colors and Numbers and Shapes and Sizes, featuring wipe-clean pages; and three early concept books; I Learn to Count, I Learn to Write, and I Learn to Tell Time, each packaged with an erasable felt-tip pen.
Wilson has a two-tiered vision for his new publishing venture. "We want to enhance the way children learn from books, and also to give back where we can, and all our projects are designed with those missions in mind," he said. "We are dedicated to publishing unique titles that will make a difference and to ensuring that all of our work lives up to our imprimatur: Imagine & Wonder."