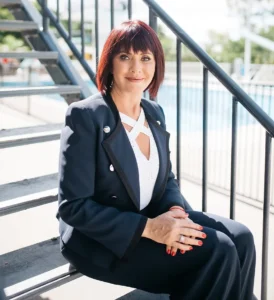 Elena Gosse is an author being published under Imagine and Wonder's Leadership Lit Imprint. We like to share the good news with our readers about our amazing authors and this is big news.
MEDIA RELEASE. For immediate release - 13 June 2022
AIS Water CEO awarded Medal of the Order of Australia
BRISBANE, AUSTRALIA: CEO of AIS Water, Elena Gosse has been honoured by the Australian Governor-General, his Excellency, the Honourable David Hurley AC DSC (retd) with the most prestigious award of all in Australia – a Medal of the Order of Australia (OAM).
Ms. Gosse was named in the Queen's Birthday 2022 Honours List and will be invited to attend an investiture ceremony and presentation of the award at Queensland Government House later this year.
The significant award is for Ms. Gosse's service to manufacturing and to the community.
Brisbane-based AIS Water is an Australian-owned and operated family business that designs and manufactures innovative water disinfection technology for commercial and residential swimming pools. AIS Water's leadership and commitment to sustainability throughout its 30-year history has been recognised repeatedly, earning the company more than 55 national and international awards to date.
It is Ms. Gosse's passion for encouraging female leadership and championing change as an advocate against family and domestic violence that also made her an ideal choice for the honour. Ms. Gosse has fundraised hundreds of thousands of dollars for charities that support women and children at risk, including Women's Legal Service Queensland.
Ms. Gosse is humbled and honoured to receive the award, especially in the year of Queen Elizabeth's Platinum Jubilee and AIS Water's 30th anniversary.
"It is an incredible honour to achieve this recognition for my business and community efforts, especially given I arrived in Australia as an immigrant who could not speak English and was completely new to the manufacturing industry, Ms Gosse said
"For many years I have committed to building our business, furthering Australia's reputation for quality manufacturing and innovation, and raising awareness of water safety, conservation and sustainability. I'm especially proud to proactively participate in creating a safer community that values women's roles in business and society.
"I hope that my recognition with this incredible award will show other women they too can strive and lift up others along the way, as well as encourages other immigrants.
"I will continue to promote Australian manufacturing and innovation to the world, as well as continuing my work in the domestic and family violence prevention space."
In late 2021, Ms Gosse was also named on QUT's 2021 Outstanding Alumni Awards list, an honour bestowed on individuals for outstanding professional achievement and contribution at local, national and/or global levels and whose actions and values reflects QUT's real world vision. Ms Gosse graduated from QUT in 2004 with a Bachelor in Business Accounting, a decade after migrating from Russia to Australia with her husband and two young daughters.
Ms Gosse acknowledged the outstanding work of her staff for their ongoing contribution to innovation and ensuring that Australia remains at the forefront of the manufacturing industry.
- ENDS -
NOTES TO MEDIA:
AIS Water's award-winning water disinfection technology is highly respected worldwide. The Australian owned and operated designer and manufacturer of commercial and residential chlorine generators has its technology operating in home swimming pools, swim schools, aquatic centres, resorts, hotels, FINA (Olympic) standard competition swimming pools and large-scale water parks.
About inline chlorination: Chlorine is the only globally recognised disinfectant for swimming pool water. It removes potentially lethal pathogenic organisms and ensures the water is safe to swim in. There are two ways to chlorinate swimming pools:
Conventional methods of dosing which rely on liquid, gaseous or granular forms of chlorine
Inline chlorine generation via electrolysis such as AIS Water's which is safe and cost-effective and which does not require the purchase, storage or use of chlorine in solid or liquid form.
For more information, interviews with AIS Water's CEO Elena Gosse or images:
Trena-Louise Lyons
Newsroom PR
Within Australia: 0423 764 260
International: +61 7 423 764 260
Elena's new book, Leadershit, is due out in September 2022. Yes, Leader-Shit.